LED Internal Irrigation Contra Angle Dental Handpiece
Brand: TEALTH
Product origin: CHINA
Delivery time: 3-5 DAYS
Supply capacity: 10000 PCS
Order code: CIL-02C
Features:
1.push button type,Kavo type intra head
2.inner water spray ,perfect cooling systerm
3.LED ,E-generator ,self-illumination, LED bulb can be replaced
4.be compatible with FG bur or CA bur head(Φ1.60mm/Φ2.35mm)
5.match with E-type air motor
6.imported bearing
Download:
LED Internal Irrigation Contra Angle Dental Handpiece
Product name: 1:1 LED internal irrigation contra angle
Order Code: CIL-02C
Gear Ratio: 1:1
Water spray: Internal irrigation
Chuck type: Push button
Bur size: 2.35mm or 1.60mm
Light: LED
The head is exchangeable , there's CA (2.35mm) bur head and FG (1.60mm) bur head for choice.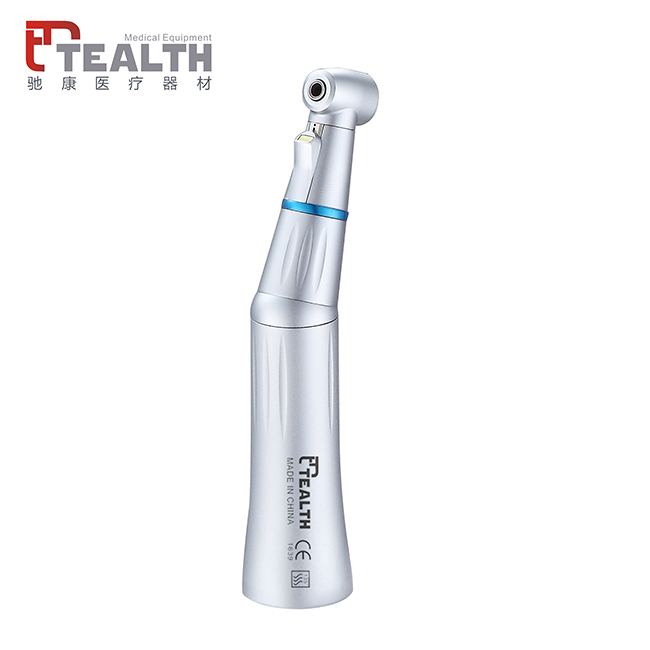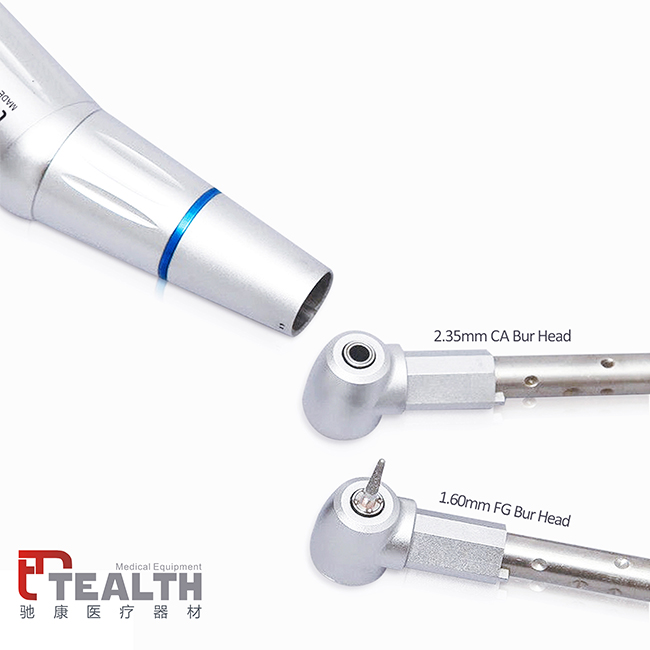 Bur inserting & removal:
After bur stop, press the push button firmly and remove the bur.
Press the push button firmly and Insert the bur in the segment of the rear of the head as far as it will go by turning it gently. Check the function of the chuck by pulling on the bur.

Contra angle handpiece head:
Loosen the union nut in the direction of arrow and separate the head.

Storage and transportation conditions:
Temperature: -10~40℃
Humidity: 0~80% RH
Atmospheric pressure: 70-106 kPa
Moisture proof, avoiding sunshine and heat source during transport.
Maintenance & Care:
After each treatment, sterilizing handpiece in autoclave according to the following steps:
1.Remove the bur, use brush to clean handpiece, then cleaning outside of handpiece with alcohol solution.
2. Lubricate handpiece.
3. Package into autoclaving pouch.
4. Autoclave the handpiece for 12 min at 135℃.
5. Dental handpieces cannot be soaked in a disinfectant with acidic liquid. it will seriously damage the bearings and handpiece internal components
6. Do not use an ultrasonic cleaner to clean the dental handpiece.
7. It is not recommended to repair the dental handpiece by little experience person. For repairing, please return to the factory or send to the designated after-sales service maintenance office.


Tealth Foshan Medical Equipment Co., Ltd is a professional manufacturer of dental handpieces and we supply over 45 countries and districts, all Tealth® products have CE and ISO13485 certificates approved by SGS.